300 GALLON POLYPROPYLENE DOUBLE WALL VERTICAL TANK 1.9SG

~ $1099.00


This tank can be used as a Chemical Storage Tank, Fertilizer Storage Tank or Water Storage Tank.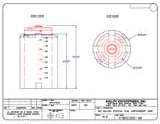 Click Drawing for full size view.
-- 48" Diameter X 79" Height.
-- 300 gallon capacity.
-- 1.9 specific gravity rating (15.8 pounds per gallon).
-- Molded from POLYPROPYLENE.
-- Continuous use temperature of 200 degrees Fahrenheit.
-- Translucent White in color.
-- Type of tank: DOUBLE WALL.
-- Item number: VTBDC00300-48-1.9-PP.
-- Manufactured by BAILIFF
-- Limited 3 year warranty
-- This is an above ground tank rated for atmospheric pressure only.
-- Double wall tanks are also called Dual Wall Tanks, Double Walled tanks and Dual Walled Tanks.
-- This tank ships from: TEXAS
-- Weight: 200 pounds.

| | | |
| --- | --- | --- |
| | Sales - 713-203-4650 | |